Wasps in the Greater Toronto Area
There are several varieties or species of wasps in the GTA, including the yellow jacket, hornet and paper wasp. Colours range from black to combinations of black with yellow, white or brown markings. The slim, winged body measures 10 to 19 mm (1/2″ to 3/4″). All wasp species have chewing mouth parts and the females possess a stinger.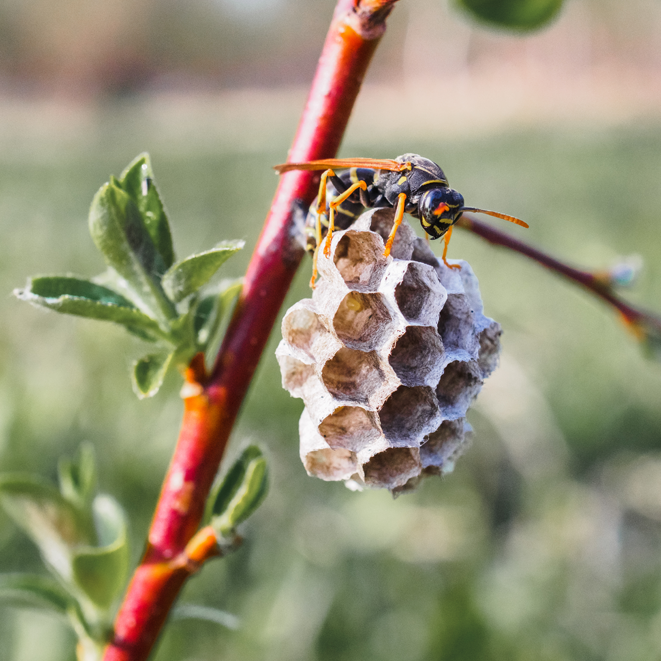 Wasp Habitat
Colonies consist of queens, workers and males. Wasp nests can be found in and around buildings on the upper casing of windows, verandas, gazebos, under eaves, ceilings, attics or in trees and shrubs. Several varieties of wasps build nests underground. They are also found within building wall voids.
Wasps are attracted to sweet smells like flowers, fruit, rotting fruit, rotting vegetables, juices, ice cream, soft drinks, beer, deodorant, cologne and perfume.
Wasp Nest Removal
With our team of skilled and experienced pest control experts, we specialize in the safe and thorough removal of wasp nests from residential and commercial properties. Our top priority is to provide a prompt response to your wasp nest infestation, ensuring that you and your loved ones can enjoy a wasp-free environment.
When you choose our wasp nest removal service, you can expect a comprehensive approach tailored to your specific needs. Our technicians will conduct a thorough assessment of your property to locate and identify all active wasp nests. Using the latest tools and techniques, we will then employ appropriate strategies to safely remove the nests, minimizing any potential harm to you, your family, or your property.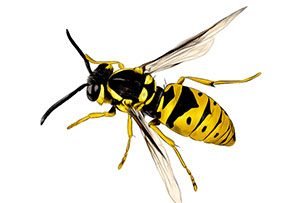 With our team's innovative practical knowledge and experience with all types of house pests, we can help you get rid of wasps and bees. For a free no obligation quote fill out the form below or call us to discuss with our team.
AR Pest Control?
We believe in making our costumer's day with our unmatched expertise, exceptional work ethics and professional attitude. 
We understand that dealing with wasp nests can be a stressful experience. That's why our team is committed to delivering exceptional customer service and maintaining open lines of communication throughout the process. We will provide you with detailed information about our removal methods and answer any questions you may have, ensuring that you are well-informed and confident in our services. When looking for a dependable and reliable pest control services provider, check with AR Pest Control Mississauga for no obligation quote at (905) 670-7378.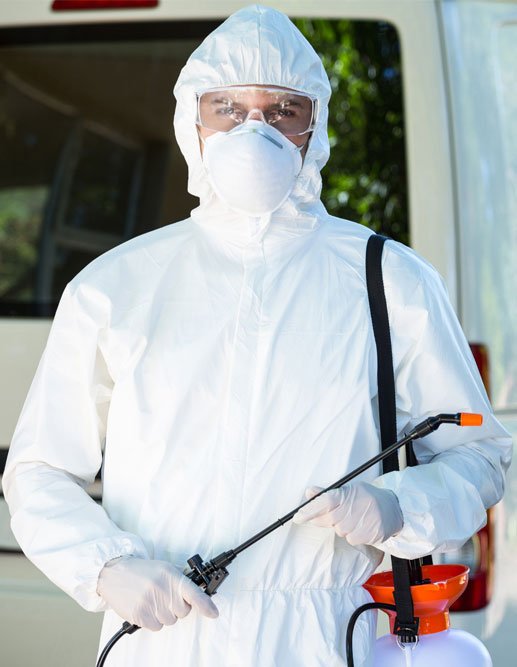 AR Pest Control delivers on its promises
We provide the high level of service you expect and communicate with you each step of the way.
With AR Pest Control's team vast practical knowledge, experience and know how, we are committed to provide you with affordable, reliable and timely pest control services in Mississauga, Toronto while becoming a valued partner in your company's day to day operations and success.






Don't let wasp nests disrupt your peace and put your well-being at risk. Contact us today at AR Pest Control to schedule an appointment or to learn more about our professional wasp nest removal service. Trust us to handle your wasp nest infestation swiftly and safely, allowing you to enjoy a wasp-free environment once again. You can contact us at (905) 670-7378.
Get in Touch
AR Pest Control offers residential, commercial, industrial and large multi-unit residential clients with free written quotations without you having to wait days for a return call or an email. Contact us for a no obligation, no hassle, best price quote at (905) 670-7378
AR Pest Control
6355 Kennedy Road, Unit #1 Mississauga, ON L5T 2L5
Find Us on Map
Our Email
info@arpestcontrol.ca
Let's Talk About Your Needs
After we get some information from you, we'll set up a time to discuss your pest control needs in further detail.